Giants, Fireworks and Flowers: A Traditional Festival in Zaragoza
Flickering candles, heavy incense and regional Spanish music fill the city squares of Zaragoza during its annual Festival of the Virgin Mary of the Pillar, one of Spain's most traditional celebrations. Dating back hundreds of years, the religious festival kicks off on the Saturday prior to 12 October - the Virgin Mary of the Pillar's feast - when a city official announces the start of the festivities from atop the historic city hall's balcony, and they continue through the week until the following Sunday.
Travellers who wish to enjoy the festivities can stay at nearby luxury hotel Parador Alcañiz, located in a 12th-13th century castle-convent.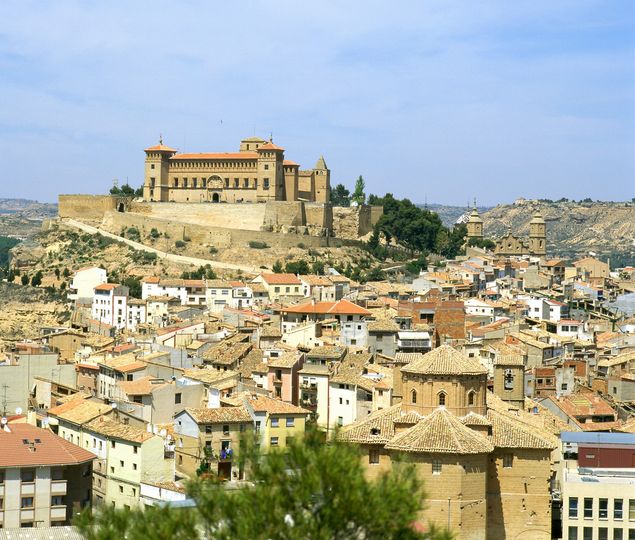 Parador Alcañiz
The Procession of the Crystal Rosary
The main religious events take place between 12 and 13 October. The city's most devoted worshippers gather before dawn at the baroque Basilica-Cathedral of Our Lady of the Pillar in order to attend the first mass of the day, held at 4.30 in the morning under the building's lofty dome, which was painted by famed Spanish artist Francisco de Goya. Later in the day, the image of the Virgin is taken into the main square outside of the cathedral, where thousands of locals in traditional clothing lay flowers on a specially-prepared altar.
The following evening, Zaragozans celebrate the Procession of the Crystal Rosary in candle-lit, multicoloured splendour. During the nocturnal trek across the city, crowds of people carry enormous glass lanterns that represent the different parts of the rosary.
'Giants', bulls and beer
Besides the image of the Virgin, the festival's most iconic figures are the gigantes and cabezudos, meaning giants and big-heads, which march through the city accompanied by local bands. Made of papier-mâché and cloth, these popular figures alternately represent historic kings and city archetypes from the 19th century.
Meanwhile in La Misericordia, Zaragoza's famed bull-ring built in 1764, Spanish bullfighters demonstrate their courage in front of the sold-out crowds every afternoon.
In other parts of the city, a wide variety of alternative activities take place. The local theme park hosts the annual Oktoberfest, with a wide variety of beer from around the world served in a traditional German biergarten atmosphere. The General Fair of Zaragoza is home to a variety pavilions that feature delicious Spanish cuisine and local craftsmanship. And each evening, a lavish display of fireworks is set off, culminating with the fair's Gran Fin de la Fiesta display, held on the final night of the festival with full musical accompaniment.
Parador Alcañiz
In between events, rest at Parador Alcañiz, sitting atop the Cumbre Cerro Pui Pinos hilltop. With Gothic murals and peaceful gardens, the Parador is the perfect place to stop and regroup before heading back out to enjoy more of Zaragoza's most important festival.
If you are interested in this festival, contact Paradores for more information.