Get Back to the Green at Parador Ayamonte
Seeking a relaxing holiday in Spain with just the right combination of local flare and casual sport? Grab your clubs and head to Parador Ayamonte, located right on the border between Spain and Portugal, where some of Spain's finest golfing takes place on the banks of the mighty Guadiana River.
Take a stroll through the idyllic, whitewashed village, explore the Algarve region or spend your day lounging on the nearby Atlantic beaches. With Paradores' luxury and historic hotels, your Andalusian escape will be the perfect mix of casual grace and sumptuous comfort.
Golfing in Paradise
Located on the westernmost edge of Andalusia's Huelva Province, Ayamonte is a picturesque southern Spanish town. Its streets are lined with whitewashed houses and the city itself is surrounded by marshlands that harbour a wide variety of herons and flamingos.
Built on a bluff overlooking the vast landscape, Parador Ayamonte is your base in this charming region. The bright guestrooms offer incredible views of the Guadiana River, while the terrace is the ideal spot from which to enjoy a drink while watching the spectacular sunsets.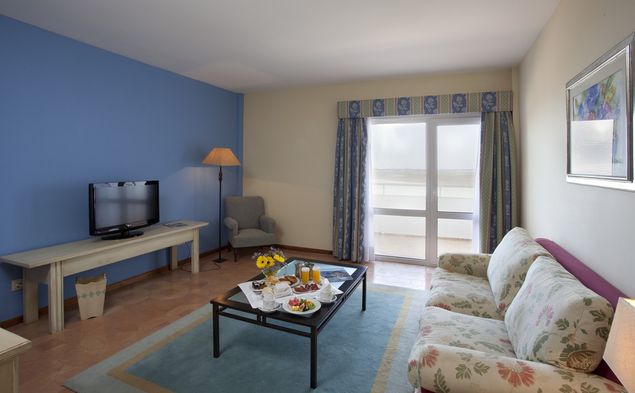 The suite at Parador Ayamonte
Ayamonte's year-round mild climate and refreshing sea breezes have made it a favourite destination amongst Spanish golfers, and several world-class courses are situated near the Parador. The Islantilla Golf Resort boasts three 9-hole courses that can be combined in any which way amongst the local flora, making each experience a new one. Golf El Rompido, meanwhile, features a 36-hole in the heart of the marshland. Another popular option is the Isla Caneda Golf Course, an 18-hole course at the mouth of the Guadiana. Whatever your choice, you're sure to have a grand day on the green.
Southern delights
Those less passionate about golfing have a wide variety of alternate diversions to keep them busy. Take a trek -on foot, by bike or on horseback- through the Isla Cristina Marshes or cross the Guadiana to explore Portugal's Algarve region. For total relaxation, lounge by the Parador's pool or wander over to any of the nearby Atlantic beaches for a day on the sand.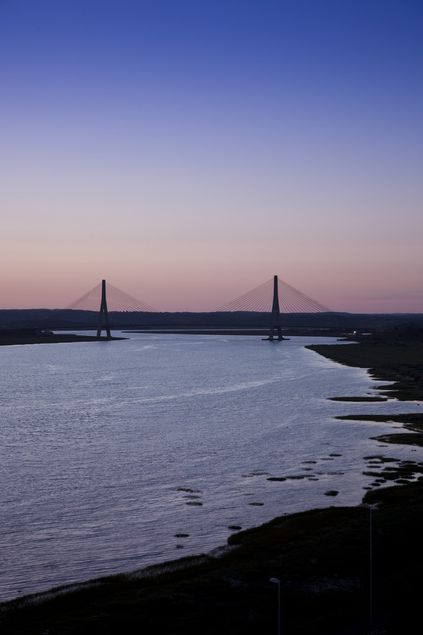 View of the bridge from Parador Ayamonte
In the evening enjoy delicious regional dishes at Parador Ayamonte's restaurant, where traditional Andalusian cooking meets avant-garde cuisine: Ibérico ham, freshly-caught white bay shrimp and Huelva cuttlefish are waiting to thrill your taste buds.
Eager to take a round of golf on the Guadiana? Contact Parador Ayamonte today!