Fun Hotels for Adults and Children Alike
While the fascinating mix of culture, exceptional landscapes and delicious food are more than enough to thrill most visitors to Spain, sometimes the youngest travellers need additional entertainment.
Bringing the entire family along on your holiday in Spain? Have no fear! Paradores' luxury and historic hotels cater to children with in-house installations -like playgrounds and pools-, as well as proximity to beaches which offer thrills for parents and younger generations alike.
Diversions abound within the Parador
Numerous Paradores offer special amenities to provide the little visitors with ways of releasing all of that youthful energy. Zamora Province's Parador Puebla de Sanabria, for example, hosts a charming playground with seesaws, swings and a large monkey-bar set where children can play for hours while older guests enjoy a relaxing glass of wine on the terrace. Later, gather the whole family for a walk on the shores of nearby Lake Sanabria -the largest glacial lake in Spain-, or around the medieval village of Sanabria itself, a setting which will no doubt delight your tykes' imaginations.
The playground at Parador Puebla de Sanabria
To really leave them awestruck, head to Parador Jarandilla de la Vera, which is located within a grand medieval castle that was once home to Emperor Charles V. If its august halls and soaring towers aren't enough to capture their attention, the Parador's refreshing swimming pool will no doubt help to keep them in cheerful spirits, splashing about over the course of the afternoon while you relax in the surrounding garden, full of olive and orange trees.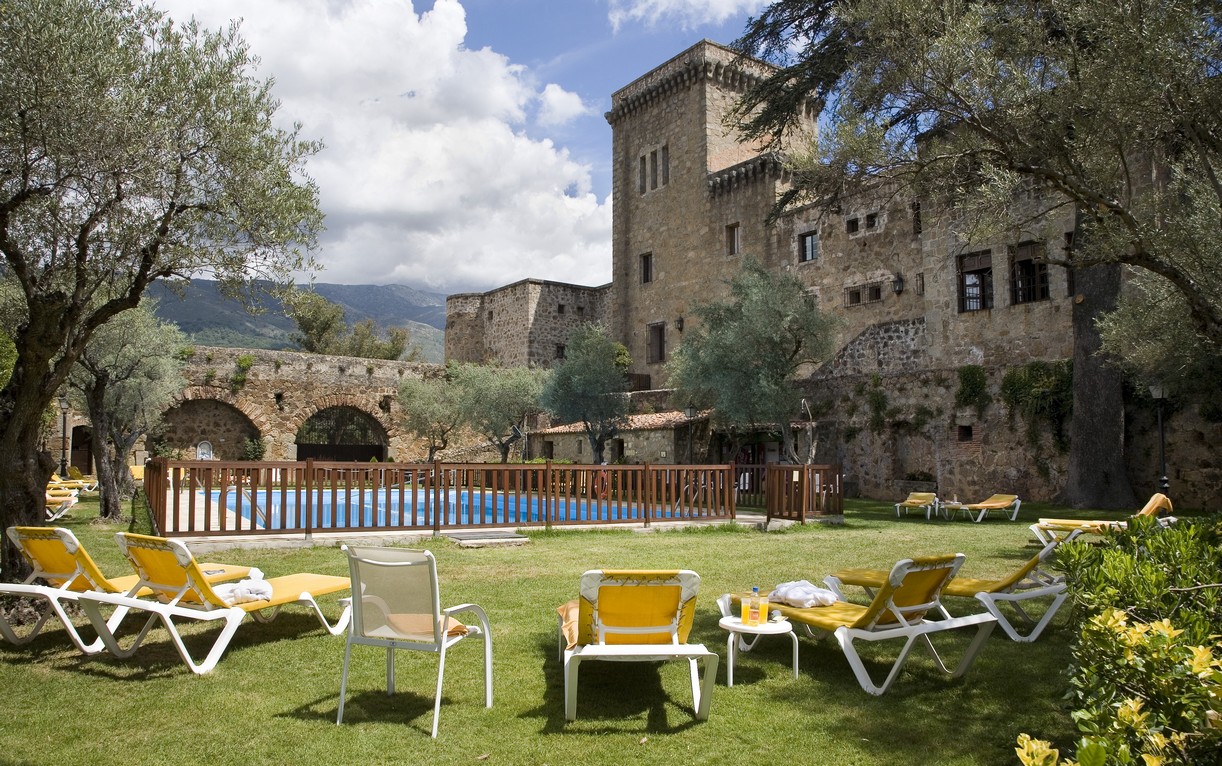 The pool at Parador Jarandilla de la Vera
After all that swimming they'll no doubt need some nourishment. Head to the Parador's restaurant for classic migas extremeñas (Extremadura-style fried breadcrumbs), fried suckling pig, and, if they've been especially good, treat the little ones to a dessert of repápalos (deep-fried breadcrumb balls with milk and cinnamon).
Fun in the sun
Another option is to head south to Parador Mojácar, where the natural wonder of the town's famous Mediterranean beaches is the perfect spot to visit with the family in tow. Spend the day on the shoreline or at the Parador's pool and take advantage of the hotel's summertime mini-club for children. With an average year-round temperature of 20°C, you're practically guaranteed a relaxing stay in the midst of the finest Andalusian sun.

Parador Mojacar
Ready to set out on a holiday ideal for guests of all ages? Contact Paradores Puebla de Sanabria, Jarandilla de la Vera and Mojácar today!