Forgotten Treasures: Parador Alarcón
Alarcón is a beautiful village in Cuenca, nestling in the gorges by the Jucar River. It has been declared part of Spain's Historical and Artistic heritage, and its historic district was deemed to be of cultural interest. There are wonderful guided tours that will take you to all the important monuments in this village.

Alarcón was a prehistoric settlement, a Roman settlement and Muslim settlement before being reconquered by King Alfonso VIII in 1184.

Visitors to Alarcón always rave about its main square, or Plaza Mayor. This plaza is dedicated to the writer Don Juan Manuel, who once lived in the town's famous castle. The columns of the town hall, located in the Plaza Mayor, are of particular interest to architecture enthusiasts.

Also in the Plaza Mayor is the 16th century church of San Juan Bautista. Spanish painter Jesús Mateo turned it into the Jesús Mateo Mural Art Centre by painting contemporary murals all over the old church. This Centre is visited by 40,000 people every year.

At one time, the tiny village of Alarcón had five churches. Four of them still stand today. After visiting the church of San Juan Bautista, many tourists also go to see the other three churches : Santo Domingo de Silos church, which holds temporary art exhibitions, Santa Trinidad church and Santa María church, with its amazing altarpiece.

Architecture fans should also visit Alarconcillo Tower and Del Campo Tower while in this village. Another enchanting aspect of this ancient town is that it is walled—and that wall is in very good condition.

Parador Alarcón

Atop a hill stands the pride of Alarcón, its amazing castle, which is now Parador Alarcón. This fortress and castle was built by the Arabs in the 8th century. King Alfonso VIII reconquered it in the 12th Century.

Its history has not been peaceful, as this amazing structure has survived many revolts and captures. The Marquises de Villena also lived in this spectacular castle.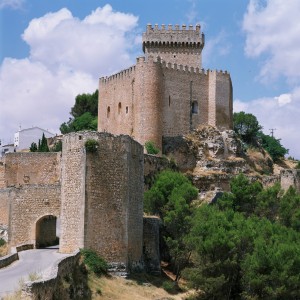 Parador Alarcón
Its sturdy Torre del Homenaje, or Tower of Homage, is a testament to its purpose as a fortress. However, what protected the castle most was its location, on the edge of a ravine, with the Jucar River surrounding it on three sides. This now makes for stunning views for guests.

The reds and oranges of the fabrics and the furniture made with rich Castilian oak wood give the parador its medieval touch.

It boasts artworks by artists such as Tapies, Redondela, Sempere, Menchu Gal, Alvaro Delgado, Amadeo Gabino and Martínez Novillo.

What historical treasures are you most looking forward to seeing on your trip to Alarcón?