Essential Items for Your Pilgrim Backpack
There are few better ways to see Spain than by walking the Way of Saint James, the famous pilgrimage routes that cross through the country's northwest and lead to Santiago de Compostela's iconic cathedral. While the trek is long, there's no need for you to enjoy anything less than stellar accommodation during your journey: Paradores' luxury and historic hotels located throughout the area ensure that your lodgings will be as charming as the landscapes you pass along the way.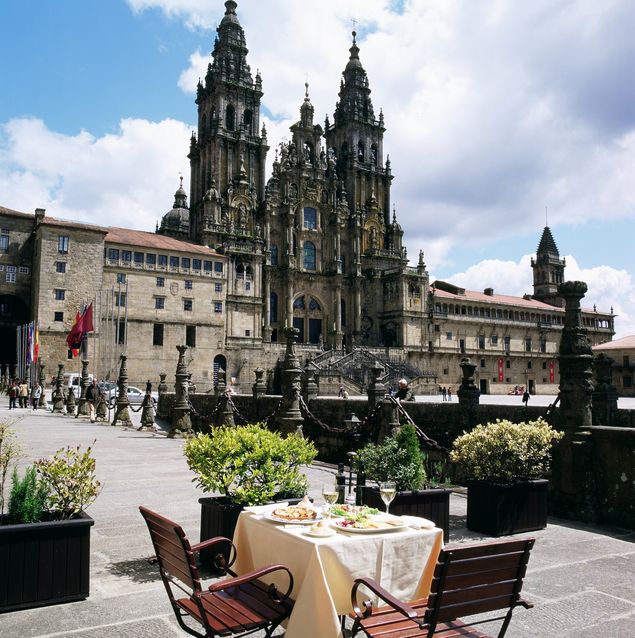 Parador Santiago de Compostela is right across the iconic cathedral
Between Parador and Parador you'll have to carry a number of essentials in your pilgrim backpack. Here's a nifty list of the top 10 items you'll need to pack as you experience this incredible holiday in Spain.
Water bottle: As you'll be walking under the hot sun for several hours each day, you'll need to drink plenty of water.
Dried fruit: Keep a proper sugar level and stave off hunger between meals by carrying dried raisins, apricots and other such fruit with you.
Walking boots: Light, flexible and resistant shoes are essential for this journey. Make sure you break them in several weeks before starting the Way: nobody wants blisters at the end of the first day!
Raincoat / windbreaker: With mountain passes and windswept plains, a light windbreaker or raincoat is always a practical addition, as is a jumper of some sort.
Plasters and blister cream: With so many days of walking, some wear and tear is inevitable. Make sure you wash your feet every night and replace your plasters regularly.
Torch: Some days you may find yourself still en route when night falls. Bring a torch, just in case.
Sleeping bag: For those nights when you don't make it to a Parador, you'll need a sleeping bag when you check-in at one of the pilgrims' hostels along the Way.
Comfortable clothes: Select clothing items that work well for both warm and cool climates and which can be worn more than once.
Map: Even in the age of smartphones, paper maps are a practical addition for the moments when batteries fail or for those remote valleys with zero connection.
Whistle: If you're trekking on your own, always take a whistle. If you get hurt, it's a great way to let others know where you are.
Have we forgotten any other key items? Sign up as an Amigo de Paradores to leave a comment with your recommendations today!