The Enchanted City and Hanging Houses in the Magical City Of Cuenca
Cuenca, Spain, is one enchanting city famous for its Hanging Houses. Parador Cuenca is located right opposite these amazing architectural wonders, and it is the perfect spot from whence to enjoy them.

The Hanging Houses

Cuenca's world-famous Hanging Houses (or Casas Colgadas) are amazing homes that literally hang off the side of a cliff. Said to have been first built as far back as the 15th century, the most well-known are three houses with wooden balconies grouped together. Although there were many more hanging houses in past centuries, today only a few remain.

One of the Hanging Houses is in fact a museum: the Spanish Abstract Art Museum. There, visitors can see paintings and sculptures by famous abstract artists such as Tàpies, Torner, Millares, Rueda, Sempere, Saura and Zóbel. You can also experience what it is like to walk around in a building that is dangling precipitously off the side of a cliff. Not to worry! These homes have withstood the centuries.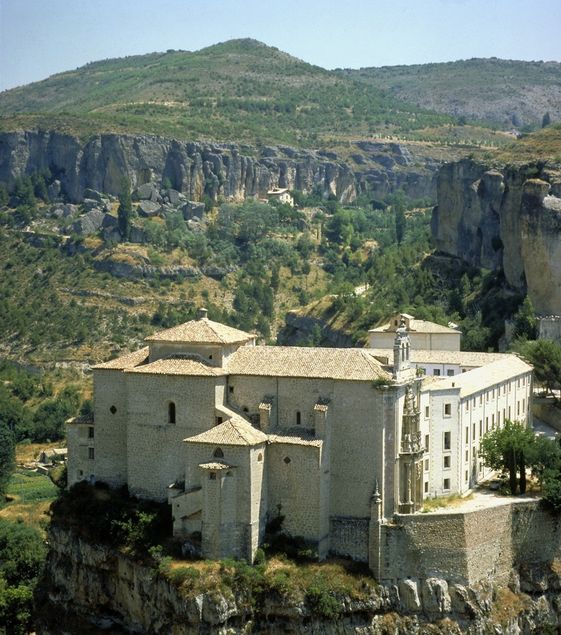 Parador Cuenca
Parador Cuenca

This luxury hotel offers visitors to the area an unbeatable view overlooking the Hoz del Huécar gorge, and directly facing the Hanging Houses. In fact, many of the bedrooms offer spectacular views of these architectural marvels. The enormous parador is built in a 16th Century Convent, the convent of Saint Paul. The decor combines its medieval roots with the most exclusive modern luxuries. Visitors mustn't leave without sipping some tea in the café, which is located in the former cloister and chapel.

Cuenca's Architectural Wonders

Cuenca has much more in store for visitors than just the Hanging Houses. You can stroll over to the Nuestra Senora de las Angustias Shrine and kiss the madonna's cloak, an old tradition dating back many centuries. Architecture enthusiasts shouldn't miss the 13th century San Miguel Church or the 12th century gothic cathedral. The Town Hall's façade is quite impressive.

The Enchanted City

Not far from Cuenca lies the Enchanted City. This geological phenomenon is actually not a city at all - it's a series of rock formations that include a giant rock in the shape of a bridge, one that looks like a theatre and another like a convent. You feel as though you're actually walking through a city of stone. Look out for the giant mushrooms!

Sporting Activities

There are also many opportunities to hike and horseback ride in the Natural Park of the Cuervo river, the Palancares, and the Devil's Window. The adventurous visitors will enjoy extreme sports such as caving, climbing and hang gliding.

What sounds most appealing to you?