Discover a Nature Lover's Paradise
Imagine 2,099 square metres of untouched natural paradise, like the Garden of Eden, only tangible. Spain's largest protected nature park, Parque Natural de Cazorla, is also the second largest nature reserve in Europe.
With vast swathes of pine forests filled with herds of Fallow deer, Red deer, wild boar, wild sheep, wolves and vultures, this is truly nature at its finest: undamaged, wild and abundant.
Cazorla Nature Park
To experience this prized gem in Spain's rural crown, you must travel to the Jaen province, where the park makes up one-fifth of the area. Once there, seek out the mountain range amongst the parkland, from there the headwaters of the Guadalquivir River begins - the biggest river system in Andalusia.
Cazorla Nature Park was nominated a UNESCO Biosphere thirty years ago and today boasts an array of canyons, waterfalls, reservoirs, rivers, lakes and a huge number of birds of prey including several types of eagles, griffons, vultures and goshawks to name just a few.
Parador Cazorla
Nestled in this natural Shangri-la lies exquisite Parador Cazorla, a beautiful Andalusian country house hotel, providing nature lovers, walkers, horse-lovers, bird-watchers, fishermen, and all who visit the park, with the perfect resting place.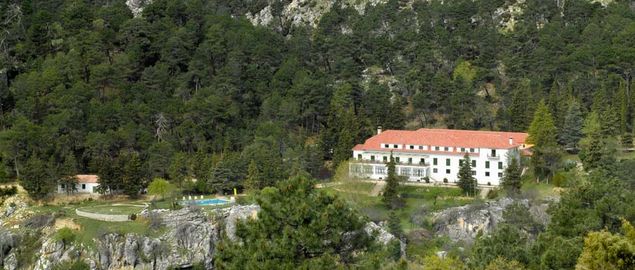 Parador Cazorla
With panoramic views across the park, and with forests stretching below, wildlife can be viewed from the comfort of your own armchair -aperitif in hand.
Built as a classic mountain lodge, the luxury hotel has vast windows and deep sofas. Each bedroom is elegantly styled in a modern and comfortable manner. The gardens are well-kept, and the swimming pool offers beautiful views across to the mountains.
The restaurant at Parador Cazorla offers a delectable menu, often with game from the park during the hunting season. Local Andalusian dishes are prepared, and one of the specialities includes gachamiga. This appetizing treat is made from flour, bread and bacon, and it is much sought after following some glorious trekking in the nature reserve. A gluten-free menu is also available for guests with dietary requirements.
Get in touch with our staff and make your visit to the Parador Cazorla as unique as the natural park in which it resides.