Destination Wedding at the Spanish Seaside
Fran and Nuria got married on September 2012 in Parador Baiona, a medieval style fortress located in a coastal town in northern Spain. The happy couple chose this luxury hotel in which to celebrate their Spanish wedding due to its privileged location, its history and its beauty. Its spectacular sea views, its range of facilities and its ample and elegant banquet halls make it the ideal venue for a wedding.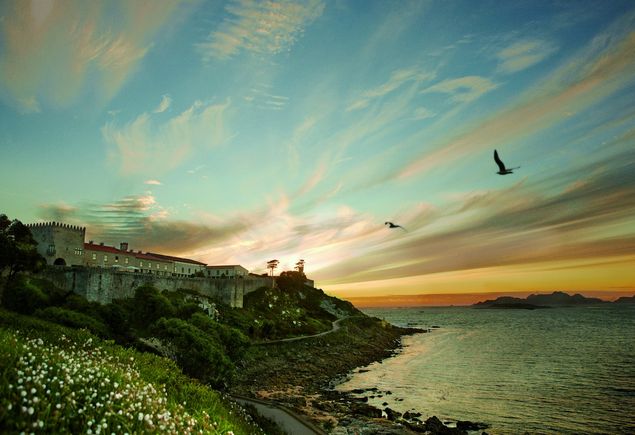 Parador Baiona
The bride and groom did not hesitate to hold the wedding ceremony in the charming Church of Santa María of Baiona, which is very close to the Parador.
As Nuria recalls, "The wedding cocktail, set against a backdrop of lovely sea views, was fantastic and we did not regret booking the Parador's special octopus-cooking service. It was delicious!"
"My wedding dress was just what I wanted: strapless, with a tight-fit upper part and a full but vaporous skirt adorned with beautiful hand embroidered lace appliques".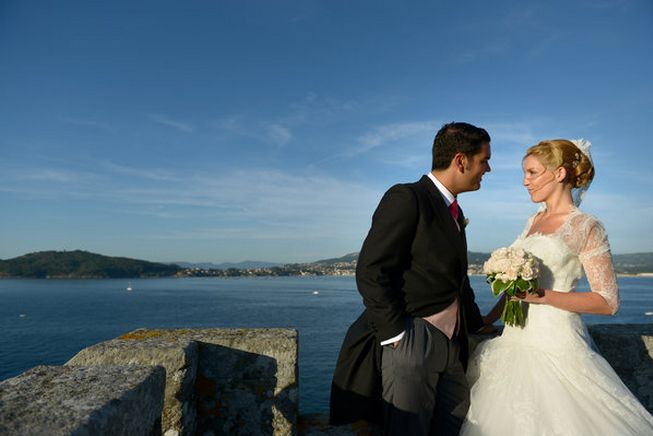 Fran and Nuria
One of the bride's most stylish accessories was her head-dress: "I liked the idea of wearing a head-dress but I wanted something very simple. I finally found what I was looking for in the Spanish shop El tocador de la novia".
The veil was also very special. It was made of tulle and lace embroidered with lace appliques like the ones on the dress, all around the edge.
To complete the look, Nuria's mother lent her her rosette shaped diamond earrings, which went really well with the dress and added the perfect finishing touch.
The groom wore a classic and stylish morning coat and Montblanc Meisterstuc watch, which was a gift from the bride's parents when he asked for her hand in matrimony.
"We wanted to add a fun touch to the wedding so we named the dining tables after movies that reminded us of the different guests" the bride tells us.
The Spanish florist Cupido provided the flowers and flower decoration, while the photographer Ramón Vaquero took care of the photos and videos, catching all the best moments of the wedding on film.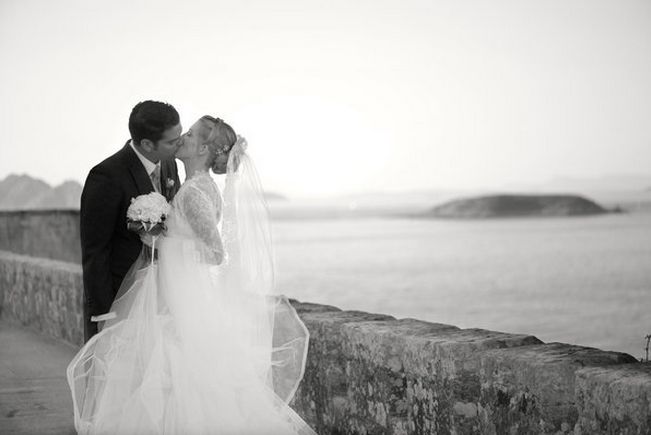 Their fairy tale happy ending
The happily married couple danced the opening dance to their favourite song "I've got you under my skin" by Frank Sinatra.
"Thanks to the Parador, our wedding was a complete success. The atmosphere was lovely and the service was unbeatable. We were more than satisfied with the result!"
If you would like to celebrate your wedding in this luxury seaside hotel you can find out more about Parador Baiona on our website.