The Complete Golf Package

Whether it is father and son bonding, a romantic getaway, or a weekend away from the daily grind, nothing really compares to spending a holiday on the links.

An early tee time, and a crispness in the air. The sun still holds that golden tint as it reflects through the dew still drying on the grass. A quick, graceful swing sends that tiny little white ball soaring through the air, forming a clean arch. It lands with a silent thud on the green, just shy of the hole. Is there really a better way to start the day? Couple this perfect morning with a luxurious hotel and the holiday is complete.

Spain's luxury hotel chain Paradores goes as well with golf as a fine wine goes with a good cheese: a real match made in heaven. Working with local golf courses, Paradores is offering a discount on accommodation and green fees.

Rooms are available at full board (including meals and drinks) and half board (not including meals and drinks) to make this holiday one you will never forget.
Parador Lerma

As with any sport, being close to nature adds something to the game that cannot be found anywhere else. Parador Lerma is situated in Burgos, with the Burgos mountains as a beautiful backdrop to the city. There is nothing quite like golfing with the mountains in the distance and the scent of pine trees in the air.

A mere 5 minutes from the hotel is the Golf de Lerma golf course, and 20 minutes away is the Golf de Saldaña course. The special offer gives guests discounted rates on each course, as well as a deal on your stay in Paradores.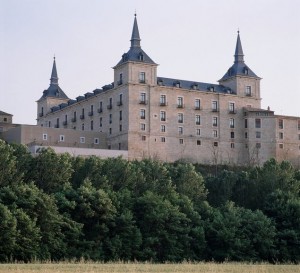 Parador Lerma
Parador Pontevedra

Any experienced golfer likes a challenge. A harder course, demanding a more precise shot. That is exactly what Meis Golf Course demands of its golfers. A 2 kilometre long course means longer drives, and less room for mistake. A challenge for any golfer, this course will leave you beaming with pride after conquering it.

Housed in a 16th century palace, this luxury hotel is definitely fit for a king. After a triumphant day on the course, relax like a well deserved victor. A harder game deserves a better payoff and Parador Pontevedra in Galicia is just waiting to make that payment.

Take advantage of the golf and accommodation package in Paradores, but get in quickly. The offer runs from January-June and from July-September, and vacancies fill up fast. Be sure to reserve your golf game ahead of time to take advantage of this fantastic offer.

So whether it is in the Burgos mountains, or farther north in Galicia, or at any of Spain's other top golf courses, Paradores aims to give you a restful holiday that will leave you feeling refreshed and content.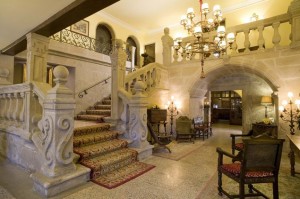 Parador Pontevedra
So come and play some golf, relax a little and enjoy life!