Cáceres is the 2015 Spanish Gastronomic Capital!
A holiday in Spain is like heaven for a foodie. While some visitors are delighted with standard tortilla, paella and tinto, where is one to go for food that is truly a step above the (already elevated) norm? Why, to Cáceres, Spain's 2015 Gastronomic Capital, of course!
Home to world-class restaurants, unique local ingredients (including its renowned ham and wines), and absolutely delicious traditional recipes, Cáceres is well worth the visit, especially if one is staying at one of Paradores' luxury and historic hotels' best locations. Parador Cáceres, located within a Renaissance palace in the heart of the Old Quarter, is the perfect location to enjoy all the city has to offer.
The beautiful exterior of Parador Cáceres
A culinary landmark
Organised by the Spanish Hospitality Federation (FEHR) and the Spanish Federation of Tourism Journalists and Writers (FEPET), the title of Spanish Gastronomic Capital is awarded to a different city each year in order to highlight its culinary wonders and promote its worth at home and abroad. Cáceres, the beloved UNESCO World Heritage city, has been selected as the 2015 Capital thanks to its rich gastronomic heritage, enhanced by local fare including Ibores and Casar cheeses, La Vera pimentón, Ribera del Guadiana wines, its world-famous Ibérico hams and prized local lamb and beef.
Throughout the following year the city's exceptional restaurants -including Atrio, which possesses two Michelin stars- will participate in a diverse array of activities to highlight Cáceres' position as Spain's gastronomic capital, inviting guests to enjoy regional classics in this iconic location.
Bliss in the Old Quarter
Should you decide to drop in on Cáceres -an ideal location for a romantic getaway thanks to its myriad of architectural and cultural wonders- make sure that you include a stay at its Parador, a Renaissance palace in the heart of the Old Quarter, as part of your plans.
The Gastronomic Capital's thrills continue within its walls, where Restaurante Torreorgaz serves the very finest in traditional Extremaduran cuisine, exquisitely prepared by Chef Ricardo Muñoz Cabaldón which reflects the region's rich culinary history.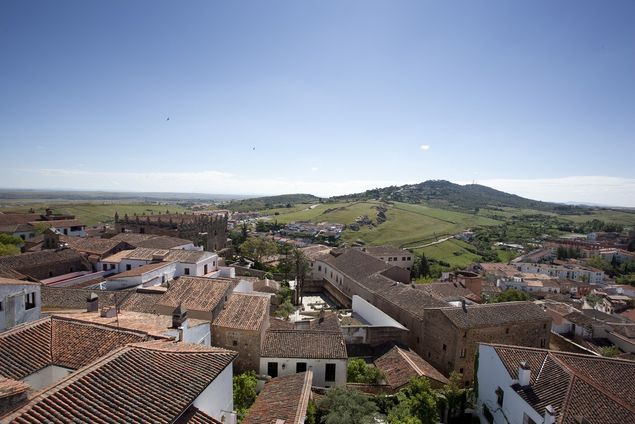 Take in the stunning views from Parador Cáceres
From the Zorongollo Extremeño (potato and roasted red pepper salad) to the Ibérico pork tenderloin with Casar cheese sauce, the scrumptious Migas Extremeñas (Extremadura-style fried breadcrumbs) to the rosemary roast kid, the Pata Negra ham or the sweet Técula Mécula (egg and almond cake), guests inevitably swoon at the delicious meals prepared within this elegant space with garden views.
Prepared to treat yourself to a unique, foodie experience? Contact Parador Cáceres to book your visit to Spain's Gastronomic Capital today!