93 Spanish Luxury Hotels With Dinners To Savour
With locations throughout Spain, luxury hotel chain Paradores' chefs are experts at Spanish cuisine.

Each Parador restaurant specialises in the cuisine typical to the region. Using only the freshest and highest quality ingredients, they manage to truly capture the culture of each region in every mouthful.

Paradores invites you to dine in luxury and style. This makes the delicious meal the icing on the cake (so to speak) of a perfect night out.

For a mere €92, and your choice of any of the 93 Paradores' restaurants located throughout Spain, a fantastic night is guaranteed.

Serving a set menu in each restaurant, Paradores will add a modern spin to typical regional dishes. And of course, a choice of two different wines (both of which combine beautifully with the meal) are a must.
Castile-La Mancha region

Located right in the heart of the Castile-La Mancha region, the chefs at Parador Toledo bring out the culture of the area in a big way. There is nowhere else in Spain that creates a stewed partridge quite like La Mancha. In fact, it is made so well here that it has become a typical local dish.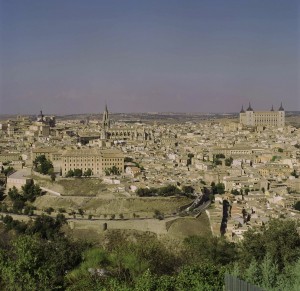 Parador Toledo
Although the stewed partridge is definitely something to write home about, save some room for dessert. Toledo takes great pride in its marzipan, and a well deserved pride at that.

Renowned all over Spain, Toledo marzipan makes a delicious ending to the meal. The only thing left to do is sit back and enjoy the view of the imperial city.

Segovia Region

Parador La Granja is large but the restaurant by no means lacks intimacy. Sit outside on the terrace, or inside the restaurant for a meal you won't soon forget.

Chef Javier Gomez Torre is ready to prepare a meal that will take your taste buds to places they never thought they would reach.

Parador La Granja serves food typical to the region of Segovia, where the beautiful hotel is situated. This means La Granja beans and either roast lamb or suckling pig are on the menu. Finish your meal with egg yolk liqueur sponge cake and a cup of strong, hot coffee.

Come to Paradores for dinner and let the attentive staff take care of you. Allow them to rock your taste world with modern spins on classic Spanish dishes, all paired with a fine wine.

Their set menu is specially designed to give you the best of what the region has to offer.

Call in and ask for the special Pausa gift box to book your dinner!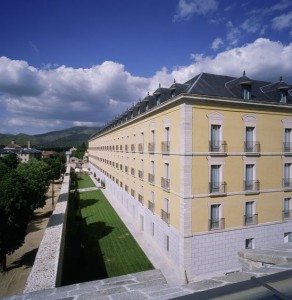 Parador La Granja