5 Modern Architectonic Jewels in Spain
The world of architecture is so wide and interesting. It is a world in which there will be always changes and innovations. Spain counts with a wide variety of architectonic jewels from different periods, but it's time to talk about the most emblematic modern architectonic jewels in Spain that you can visit while staying at our Paradores luxury hotels.
Guggenheim Museum in Bilbao
This building was designed by Frank Gehry, a famous architect that gave the Guggenheim Museum of Bilbao a characteristic vanguards style. It is a museum of contemporary art that was built back in the year 1997. This is such a huge building in which 11.000 m2 out of its 24.000m2 are dedicated to exhibitions.
The construction of this building was a complete innovation, in which this sculptured building was integrated in an urban space. The building itself is a museum and an important artistic piece with its curved shapes, the titanium and every single detail it has.
Our Parador de Argómaniz is 75 kilometres away from the city of Bilbao on the AP-68 road. It is a noble stone palace located in such a gastronomic location in the beautiful province of Álava. Maybe you can dedicate one of your days to make a trip to Bilbao and discover this world jewel.
Book now at Parador de Argómaniz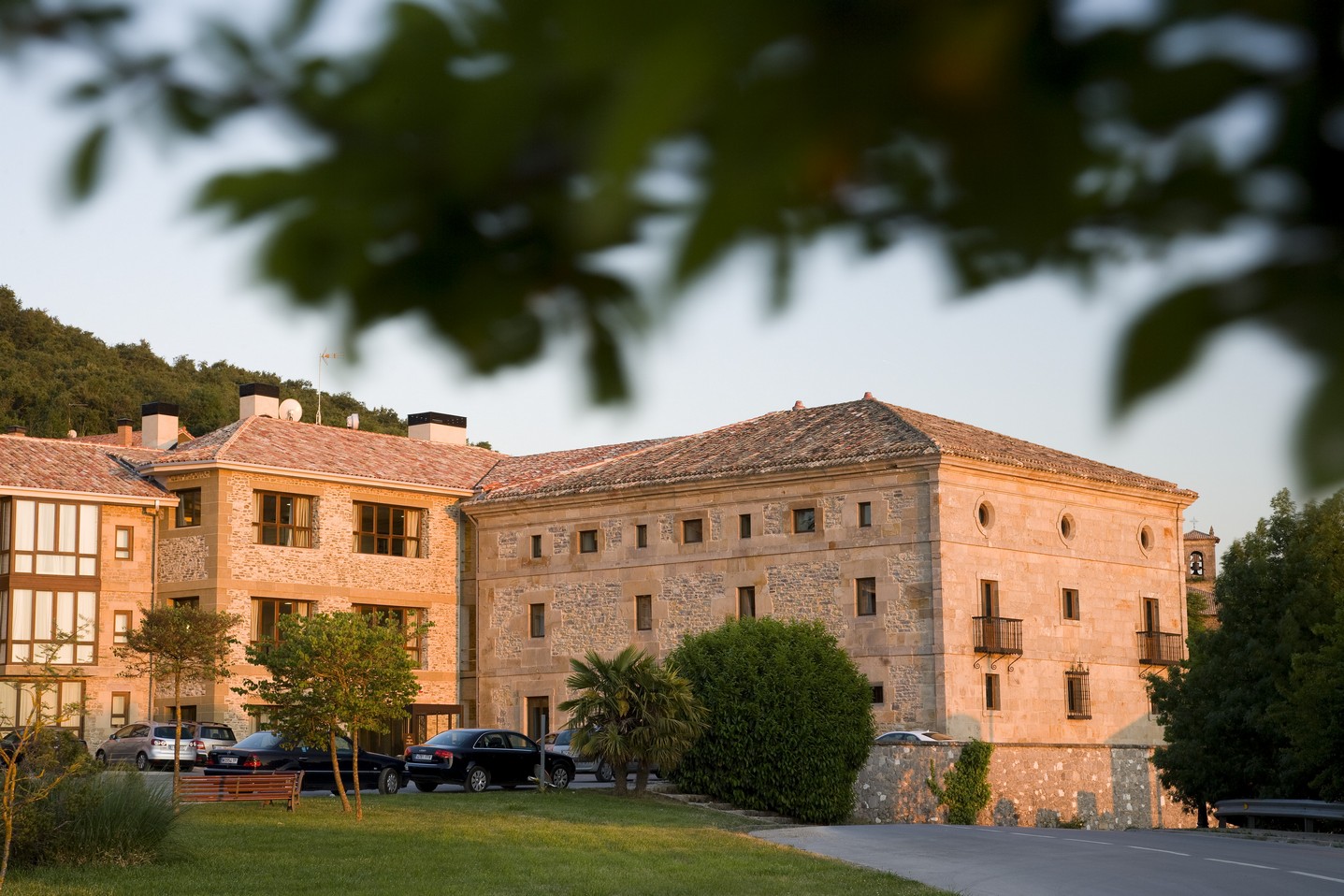 Parador de Argómaniz
Auditorio de Tenerife in Tenerife
The Auditorium of Tenerife is known as the Auditorio de Tenerife Adán Martín. It started to be built in the year 1997 but it wasn't until 2003 when it opened. It has a late-modern style architecture from the XX century and it is the first modern building in the Canary Islands. Moreover, it has become the symbol of the city somehow.
Its structure will remind you of the Sydney Opera House because of the great arc that is just supported by two points of support. In fact, it was known by some people as the Sydney of the Atlantic. The Orquesta Sinfónica de Tenerife (Symphonic Orchestra) is located in that same building, which is why it became more and more famous for tourists.
If you want to discover this awesome building you can stay at the Parador de Las Cañadas del Teide, right next to the Mount Teide, and make a trip to the city to enjoy this great building. It is located just 65 kilometres away on the TF-241 road, so you can make it and combine nature and culture in your getaway.
Book now at Parador de Las Cañadas del Teide

Parador de Las Cañadas del Teide
Oceanographic in Valencia
Did you know that the Oceanographic is the biggest aquarium in Europe? Félix Candela designed the whole complex, a spectacular combination of harmonic buildings in the Ciudad de Las Artes y Las Ciencias of Valencia.
The roofs are probably one of the most stunning elements of the buildings that emulate water lilies. Each building is dedicated to every different maritime ecosystem. The whole water capacity reaches the 42000000 litres. Isn't it impressive?
You can make it from our Parador de El Saler to the Oceanographic which are separated by just 17 kilometres. Our Parador de El Saler will invite you to enjoy a perfect Mediterranean break next to the sea in the city of Valencia.
Book now at Parador de El Saler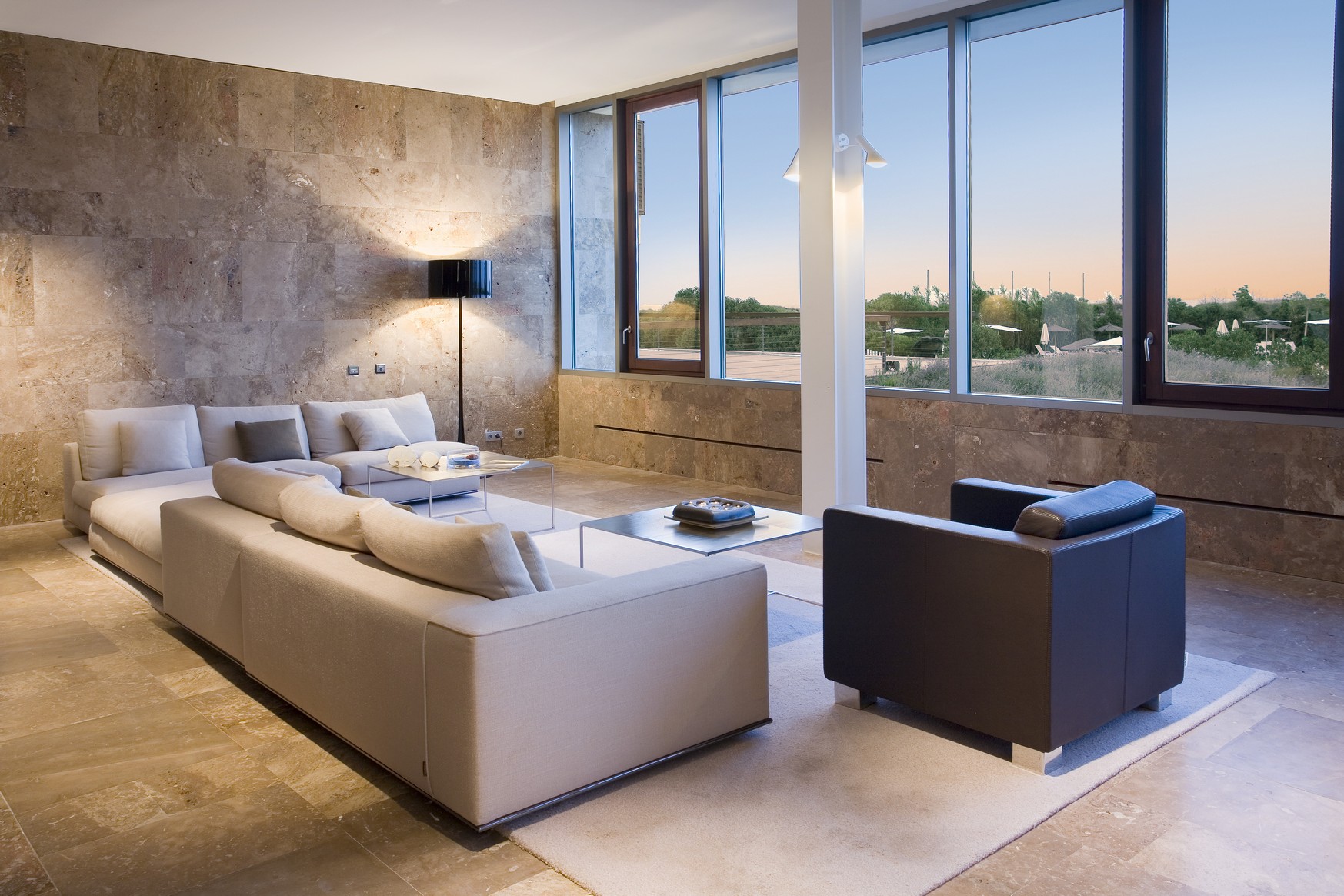 Parador de El Saler
T4- Adolfo Suárez - Madrid - Barajas Airport
The airport of Madrid got renewed some years ago with the inclusion of the Terminal 4. This was an important project in which the results were so successful. The Terminal 4 is now an attractive opened space of 1.2 kilometres long and with a characteristic structure.
People feel amazed by the interesting curved roof supported by columns that are painted with the rainbow colours, going from the dark blue to the yellow. The whole terminal got to be a functional and comfortable space with a futurist image in which the usage of the space is completely resourceful.
If you come to Spain, you may choose the Airport of Madrid, especially if you are coming to any of our Paradores in Madrid, such as the Parador de Alcalá de Henares or Parador de Chinchón.
Book now at Parador de Alcalá de Henares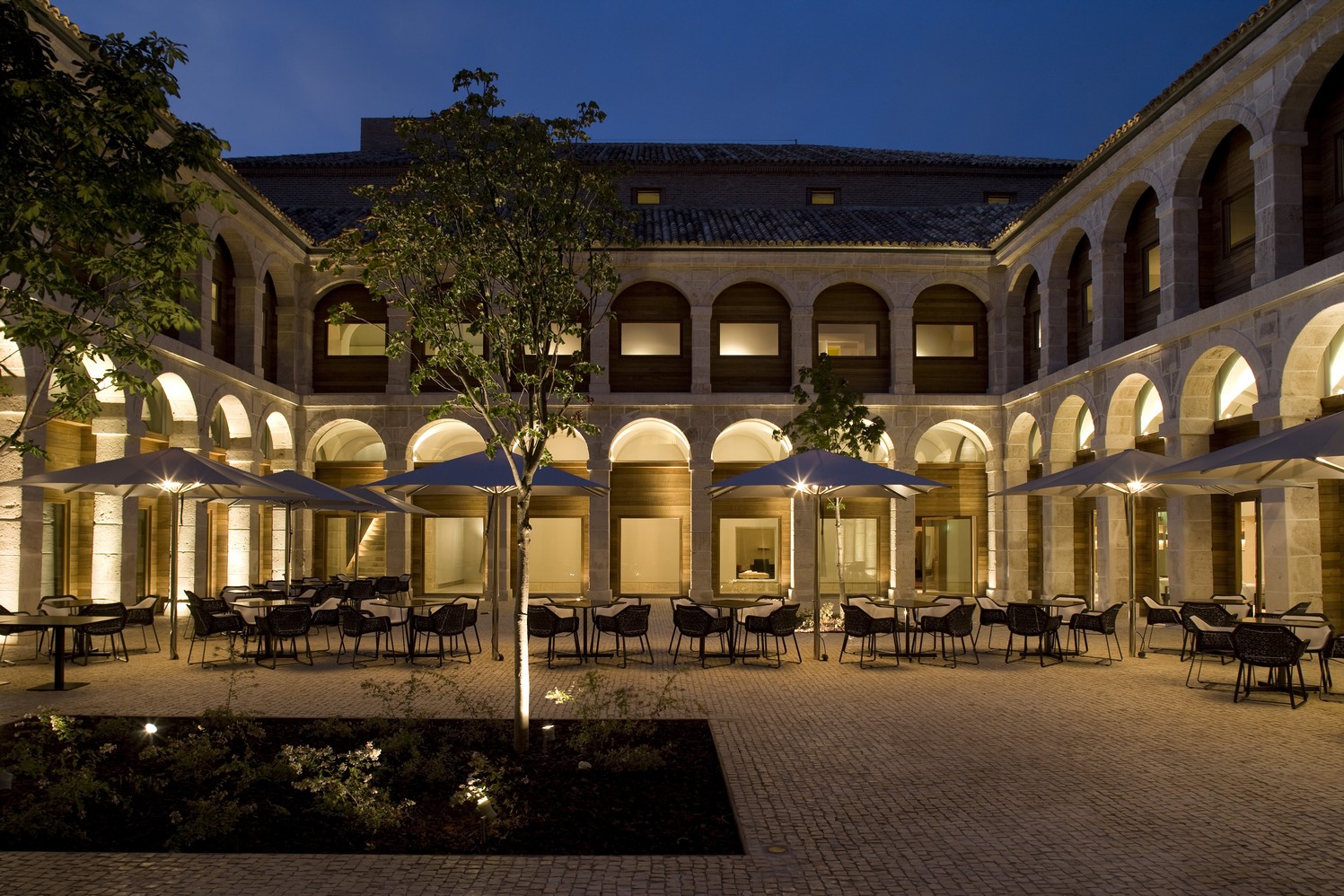 Parador de Alcalá de Henares
Book now at Parador de Chinchón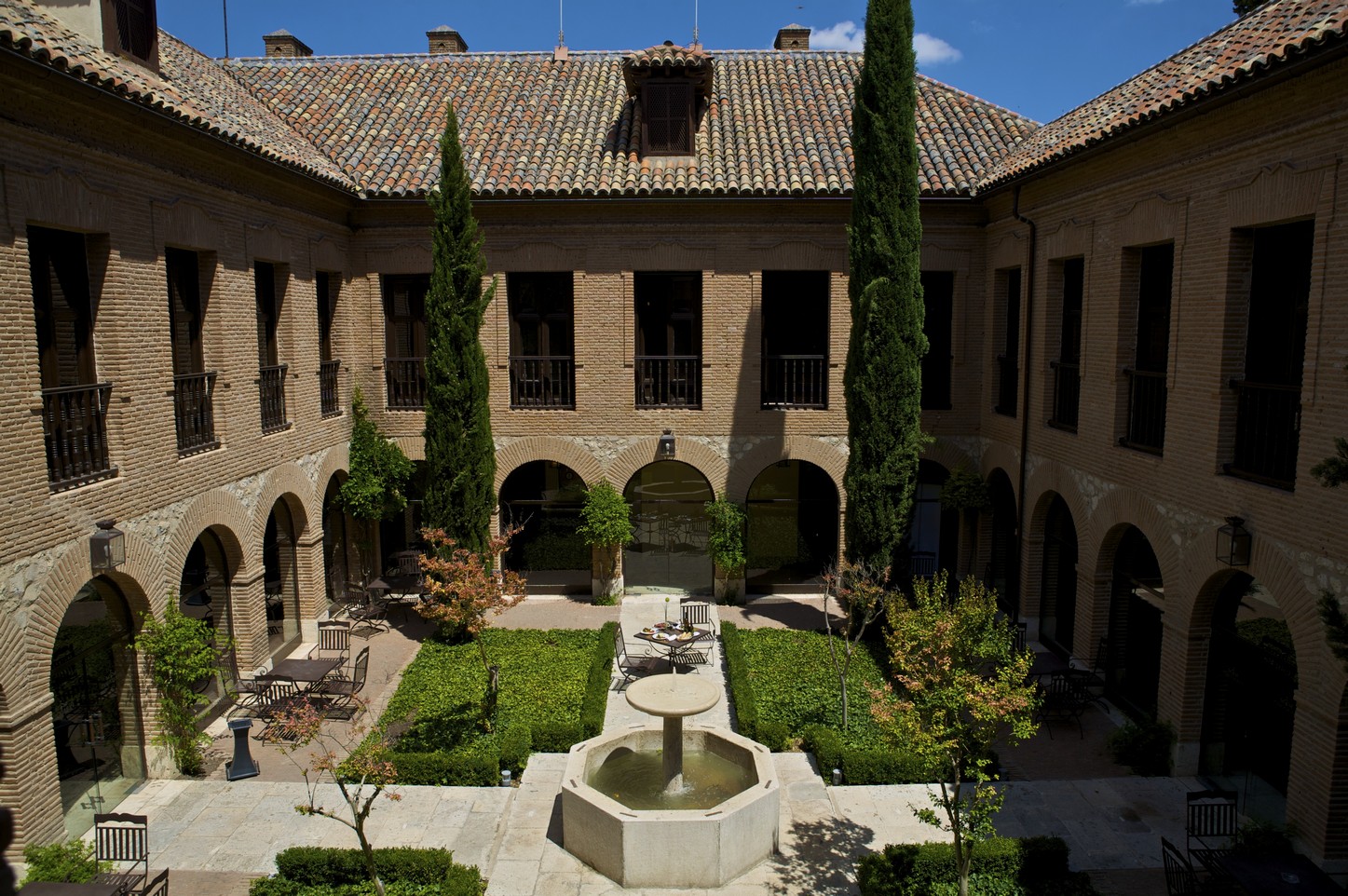 Parador de Chinchón
Metropol Parasol in Sevilla
Located in the Plaza de la Encarnación de Sevilla, we find the Metropol Parasol, also known as the "Setas de Sevilla" (Seville's Mushrooms) because of its characteristic structure emulating mushrooms. However, it was supposed to be inspired on the domes of the cathedral of Seville. It was desgined by Jüger Mager in 2005 but it wasn't until 2011 that it started its activity.
It is a vanguard icon from where you can admire the historic centre of Seville. Its height reaches the 26 metres. You can find from traditional markets, to leisure areas and shows or the rooftop, a completely viewpoint from where to enjoy such wonderful panoramic views of Seville.
If you want to visit it, you can stay at the Arab fortress that is now our Parador de Carmona in the city of Carmona, located around 30 kilometres away from the city of Seville. What do you think?
Book now at Parador de Carmona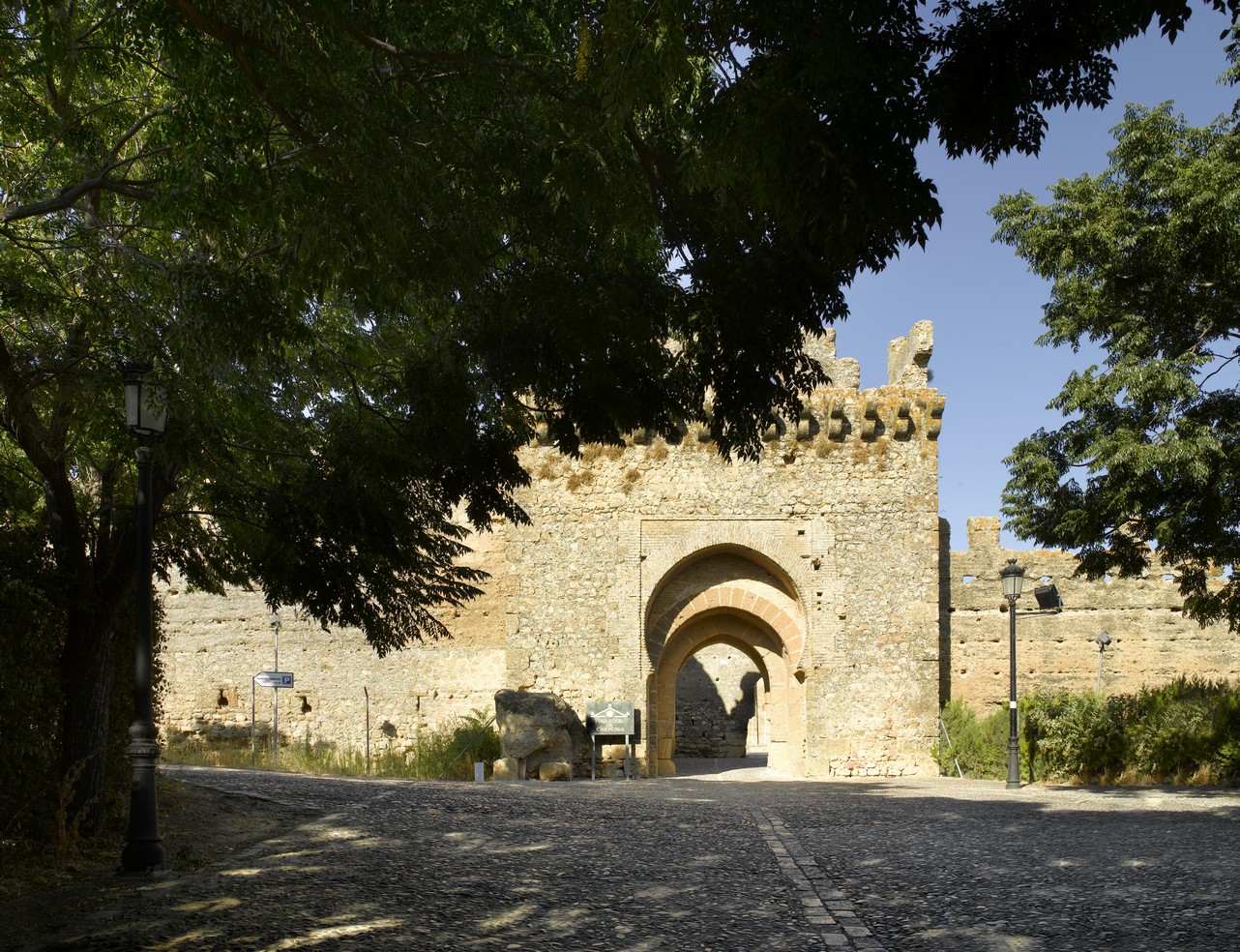 Parador de Carmona
Discover Spanish modern architecture with Paradores!